Why Does My Cat Wink at Me? [Mystery Solved]
Sometimes, our feline buddies are spotted doing something funny or odd. They may even act in ways that seem human.  In your home, blinking cats are probably a familiar sight, however, have you observed a cat wink? If so, you're not the only one.  Though it might not happen often, certain cats do occasionally wink. Although, it can be simple to assume the reason your cat winks, there might be some serious issues. Why does my cat wink at me?
Cats wink for different reasons, but the main ones are to show they like you, trust you, or feel safe. They might also wink to say they want to play or show they're in charge. If your cat winks at you, it means they feel cozy and secure with you. You can show you care by blinking slowly in response, like a cat's way of saying "I care about you" and "I believe in you." A cat may also wink when there's a discomfort, injury, or foreign object in their eye.
Now you might be thinking about how to differentiate between winking and blinking and when winking indicates an emergency. Don't worry, in this post, we'll first discuss the distinctions between a wink and a blink, then we'll delve into the possible causes of a cat's winking. Also, we'll discuss other cats' eye languages and much more!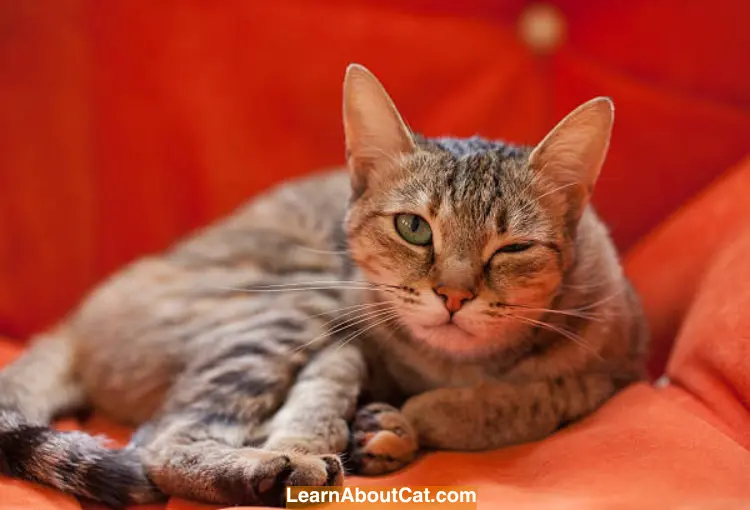 Winking Vs. Blinking: What's the Difference?
It's rather simple to differentiate between winking and blinking. Winking is the act of closing one eye and opening it again. But whenever you blink, you simultaneously shut and reopen both eyes.
Winking and blinking are alike, but winking is done on purpose while blinking is a normal and common eye movement.
It might seem simple, yet there are a few more considerations.
For instance, a wink includes closing the eye briefly before opening it again. It is generally slower than blinking.
A person blinks quite quickly. It is a multipurpose, involuntary eye movement. It frequently occurs when the eyes aren't focused on anything, yet it also protects the eye and keeps it moisturized.
However, blinking doesn't function exactly like it does for cats.
To make the eyes wet, a person's lids distribute tears via their tear glands when they blink. On the other hand, cats possess a third eyelid known as a nictitating layer that distributes the tears over their eyes rather than using their eyelids as humans do.
People seldom witness the third eyelid since it flaps so quickly! Thus, even though your cat may be communicating with you when they blinked with both eyelids, they might also get some irritants in their eyes.
Why Do Cats Wink?
There are two potential explanations for this. Cats typically wink at their owners to interact with them or to show that they have an infection.
The first is a means of expression or body posture. Animals have a wide range of bodily communication abilities, such as using their whiskers, paws, attitude, and eyes. We'll examine it more closely today.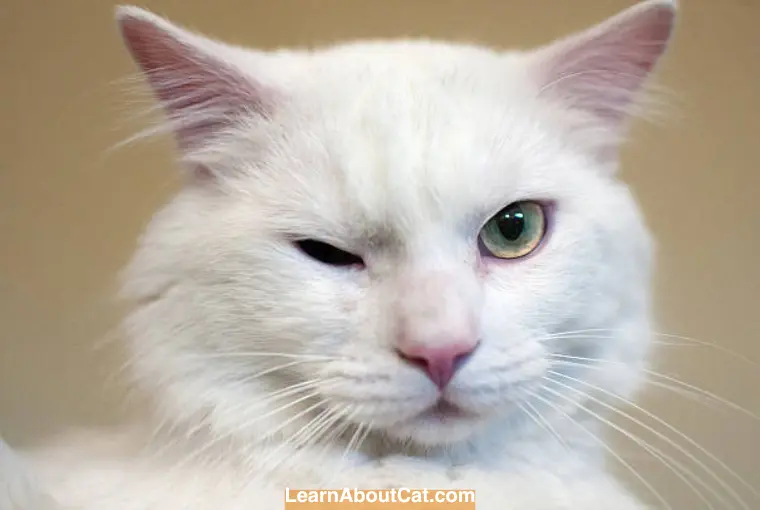 Secondly, it can be a sign of an eye problem. These symptoms include ocular secretion (which can be clear, pale, or greenish), bulging of the nictitating membrane, eye wiping, irritation, inflammation, and more.
Sniffing and postnasal drip might also occur in case of an infection of the upper airways. The existence of a foreign entity, pinkeye, corneal conditions, conjunctivitis, asthma, or any of these conditions may make the affected eye twitch.
You can talk to your veterinarian for a prognosis and a treatment plan if your cat becomes ill. Avoid using home treatments if you don't understand what is causing it and your veterinarian says it's fine.
Reasons: Why Do Cats Wink at Me? Why Does My Cat Keep Winking
For several reasons and in a number of different ways, cats wink at their owners. A single wink is sometimes read as a friendly smile signifying a degree of warmth or unanimity. Let's examine the reasons behind cats' winking: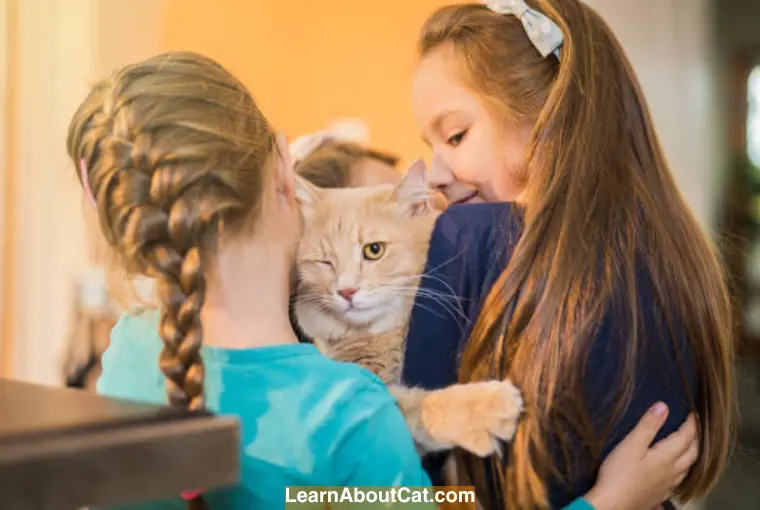 The Playful Wink: An Innocent Gesture
One of the most common reasons for your cat's wink is simple playfulness. Cats are known for their mischievous behavior, and winking can be their way of engaging you in a fun interaction. Just like humans use winking to convey lightheartedness, cats might be inviting you to join in their game.
When you notice your cat winking, take a moment to observe its overall body language. Is the tail held high in the air? Are the ears pointed forward? These are signs of a playful mood, indicating that your furry friend is in a joyful state.
They Like to Exhibit Devotion and Confidence: Bonding and Trust
Cats will occasionally wink at someone they regard as trustworthy and dependable. You will probably receive a wink from your cat periodically if they love being with you and have a special bond with you. Based on the circumstances and the specific cat's nature, some cats will wink at their guardians with either one or perhaps both eyes with devotion.
Cat owners who normally have cold or uninterested cats are unlikely to wink at their family.
Check Out: Why Does My Cat Follow Me Everywhere And Sleeps With Me?
Eye Health and Winking
While playfulness is a significant factor, it's also crucial to consider your cat's eye health. Cats naturally blink, and occasional winking can be a variation of this normal behavior. However, if you observe frequent or prolonged winking, it might indicate an underlying eye issue.
Cat eye health is essential for their overall well-being. Common problems like conjunctivitis or corneal ulcers can cause discomfort, leading to increased winking. If you notice any redness, discharge, or squinting along with the winks, it's time to consult your veterinarian.
Find Out: Why Are My Cat's Eyes Dilated All The Time? Here's What Might Be Going On
Eye Allergies
Like humans, cats may experience allergic reactions. Pollen, mold, fungus, or perfumed cosmetic products are examples of common allergens that may irritate your cat's eyes. If one eyeball is damaged more severely than the other, they may wink or perhaps stats producing water.
Contact your veterinarian, who can make clinical decisions, if your cat's winks are followed by moist eyes. The simplest answer is occasionally to get rid of the allergy entirely or to minimize it so it doesn't bother your cat.
Cats may paw at their flashing eyes and exhibit increased wetness in their eyes when they have allergies.
Conjunctivitis
The conjunctiva, a layer that protects the eye and lids, such as the nictitating layer, becomes inflamed when someone has conjunctivitis. Any irritant, infection, mold as well as some viral disorders such as calicivirus and cat HSV, can result in conjunctivitis as well as other eye diseases.
Yet, if a cat contracts the cat herpes virus, they continue to carry it. These illnesses have become less frequent in cats who live indoors solely. Conjunctivitis can be brought on by herpes simplex when one is in distress or has weakened immunity.
Hence, if your cat starts winking more frequently following a drastic shift, the birth of a child, or any other major life event, then it might be due to conjunctivitis. Eyes that have conjunctivitis are typically watery, and cats might wink their eyes.
Although a winking cat might be adorable, if the feline is winking just because one of its eyes is irritating them, it should be examined by a doctor immediately.
Dried Nictitating Layer
Dry eyes may also be blamed for winking. Although it's rare, cats can get keratitis, which is called a syndrome of dry eye. This disorder causes cats' eyes and eyelids to produce less watery fluid or tears.
As a result, your cat may squint its damaged eye in a manner that resembles a wink. Furthermore, it can make your cat's third eyelid apparent, so keep an eye on it.
Glaucoma
It is a dangerous condition that results in a pressurized eye as a result of an accumulation of excess water; it must be treated right once to prevent blindness. Peeking and rubbing one's eyes; screaming out in agony; and having runny, hazy, and inflamed eyes.
Droopy Eye
A cat might wink due to a sluggish or droopy eye, though infection and discomfort are also possible. Strabismus is a disorder where a single or both eyes seem misaligned; it can occur in certain cats. The muscles around the eye typically perform less effectively due to this.
What you perceive as a wink may be a decrease in ocular function brought on by the accumulation of wounds from an earlier eye problem. Sometimes, secondary illnesses including nerve injury, seizures, malignancies, and inner ear disorders can induce strabismus, but such typically accompany additional symptoms of illness rather than a weakening or winking eye.
Interesting Reading: Can You Use Human Eye Drops on Cats?
Cataract
A cataract is a disorder in which the eye lens becomes clouded and prevents light from getting to the retina, causing vision problems or blindness. A hazy and white eye look, which only manifests signs in the early stage. Moreover, it may also cause weight reduction, and excess exhaustion or urination, if it's followed by diabetes
Upper Respiratory Diseases
Typically, eye problems are not linked to upper respiratory diseases. Even though, there is a clear connection between the nasal passages and the eyes. If your cat contracts an infectious disease in one, it might also affect the other.
The infection usually affects both eyes. However, a single eye can't suffer more than the other.  Sniffing and nasal secretions are typical symptoms. Your cat may get a cold and probably exhibits symptoms that are fairly similar to those of humans.
Sometimes these infections don't heal on their own. Consequently, we strongly advise bringing your cat to the veterinarian. Medications and supportive treatments could be necessary to help them recover.
When Should You Worry? When Winking Because Dangerous
There is no need to be concerned if your cat sometimes winks at you until the winking is brought about by a certain eye issue. While a few eye problems can cure naturally, others need more careful attention. To be safe, it's a good idea to consult your veterinarian.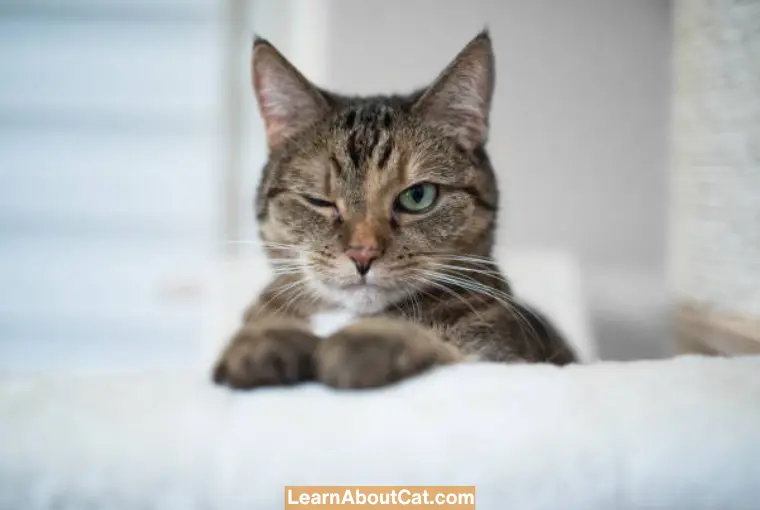 Squinting, blinking, and wet eyes may indicate an eye problem in your cat. Any kind of allergens, including smoking, air, dust, or pesticides, can lead to eye infections. As an alternative to an illness, this may potentially cause allergies.
It could be a good idea to contact your veterinarian if you find your cat winking more frequently or having one eye closed. It's important to take note of any additional squinting signs, such as edema or discharging.
 It's possible that it's simply something that got stuck in their eye if they have an inflamed eye for a short time but don't exhibit any other signs. However, it's probably a sensible decision to give your veterinarian a short call if the signs still last a few days longer.
The veterinarian will write you a prescription for any medication that is required to treat the pain, along with instructions on how to use it.
Whenever it comes to taking care of your cat or kitten, it's advisable to err on the side of caution.
Should I Wink Back at My Cat?
As previously mentioned, a cat may wink to convey his trust and love. Please try to mimic the movement, but be mindful not to fix your gaze on your cat or maintain it for a prolonged time.
It's always a good idea to wink at your cat's back as it shows your love and affection towards her. Your cat will feel confident in you and feel protected. Winking back over them is a way of showing your love to your cat.
Common Eye Language Among Cats and What it Means
Cats use their entire body to interact rather than just winking gestures to show their affection. Do But did you understand that by seeing a cat's eyes shut and observing the body posture, you may determine how they are feeling? Below I've mentioned some eye language and what it indicates: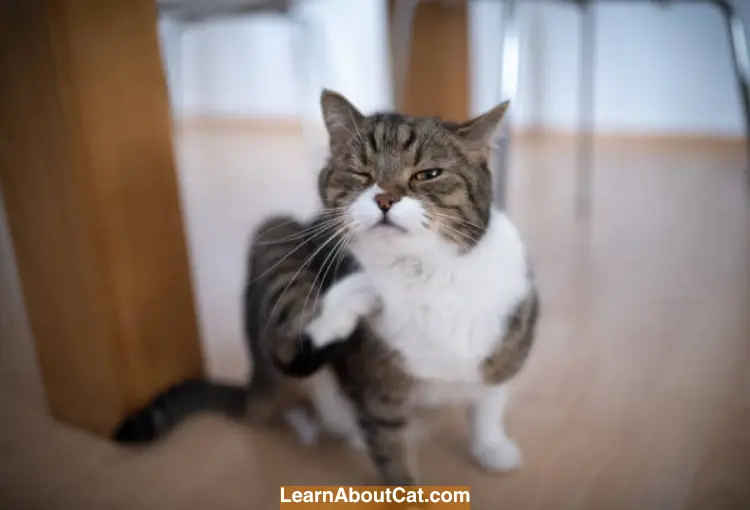 1. Completely Opened eyes
A cat with completely open eyes is alert, aware, and devoid of all emotions other than what may be happiness and confidence.
2. Partially-closed eyes
Cat's partially closed eyes may signify that it is going to nod off because it is fatigued. On the contrary, narrowing eyes may indicate someone is feeling threatened or frightened and is putting up a fight.
Notice their nonverbal cues. They are preparing to relax when they're lying down, their tail laid back, or showcasing their body. It is obvious that your cat is hurt or experiencing fear if her body is bent and their ears are laid back.
3. Gazing
Your cat is simply defending itself and their domain because they are scared, inquisitive, or feels violated.
4. Cat Pupils
Most of the time, a cat's pupils merely fluctuate following the quantity of light entering its eyes. Your cat could have dilated pupils, which they use to stalk and hunt at night. It's also difficult to discern because dilated eyes can indicate that a cat is frightened, cheerful, or even excited.
Pupils that are contracted or narrowed might indicate a variety of emotions, including anger, confidence, contentment, and calmness. Wide pupils may indicate that your cat is gathering as much knowledge as he can.
5. Avoiding Eye Contact
It shows your cats' friendly intentions towards other cats or their owners.
The Wink as a Metaphor
Beyond its literal interpretation, winking holds symbolic meanings in various cultures. In some contexts, a wink can imply secrecy or shared understanding. Similarly, your cat's wink can represent the unique connection you share—a silent language that only the two of you understand.
As you bond with your cat, you'll develop your own set of gestures and cues that reflect your relationship. Embrace the mystery and magic of these non-verbal exchanges, knowing that you're sharing a special bond with your feline companion.
Curiosity and Playfulness
Curiosity is at the heart of every cat's nature. Winking can be a manifestation of your cat's innate curiosity about the world around them. Take advantage of this playful behavior by introducing novel toys, exploring new spaces, and engaging in interactive play.
When your cat winks, seize the opportunity to embark on a new adventure together. Whether it's a feathered wand or a crinkly ball, these shared experiences contribute to a vibrant and fulfilling life for your feline friend.
Cat's Moods and Emotions
Just like humans, cats experience a range of emotions, from contentment to anxiety. Winking can provide valuable insights into your cat's current mood. A slow and deliberate wink might indicate a relaxed and calm state, while rapid winking could suggest unease.
Pay attention to the context in which the winking occurs. Is your cat in a new environment? Are there unfamiliar noises or visitors? Understanding the triggers for winking can help you create a more comfortable and stress-free environment for your feline friend.
Frequently Asked Questions
Is it normal if my cat winks at me?
If your cat winks at you normally there's nothing strange. It's a normal expression that often conveys comfort and affection. Also, most of the time, she might be trying to remove debris from their eyes. However, if they start winking frequently, there might be something to be concerned about.
Furthermore, if their third eyelid starts to protrude, it just signifies that an infection problem can exist. Bring your cat to the closest vet for an examination if this is the case.
What does the slow eye blinking of my cat mean?
If your cat blinks at you slowly it means he's feeling drowsy. Moreover, it might be possible that he's trying to communicate with you. Also, slow blinking shows that your cat is happy, and at ease, and expresses satisfaction when things are going smoothly.
Is winking the same as blinking in cats?
While winking and blinking are similar, winking is often a deliberate and purposeful gesture, while blinking is a more natural and frequent eye movement.
Why does my cat wink when I'm petting it?
Winking during petting can be a sign of relaxation and contentment. Your cat is likely expressing comfort and trust in your presence.
How do you tell a cat you love them?
You can show your love to your cat in the following ways:
By meowing or purring her
By grooming her
By playing with her
By proving them with a cardboard box
By giving them their favorite treats
Blinking slowly while looking at her
What should I do if my cat's winking is accompanied by discharge?
If you notice any discharge, cloudiness, or redness in your cat's eyes along with winking, it's essential to seek veterinary care to address potential eye issues.
How can I differentiate between a playful wink and a suspicious one?
Playful winks are often followed by energetic behavior, while suspicious winks might be accompanied by tense body language. Context plays a key role in interpretation.
Final Words
You're a lucky cat owner if your cat gives you a wink, as it suggests that she loves you and feels safe and secure around you. Though, be cautious, if your cat does this frequently while merely relaxing in her preferred area. She could be winking because of her conjunctiva membrane or she could have an eye problem, in that situation, you must take her to the veterinarian right away for treatment.
Because we can't speak to cats directly, interpreting their behavior might be difficult. As the owner you understand your cat well, so you should consult your veterinarian if a behavior seems unusual or is accompanied by other signs.
However, if your cat periodically winks at you and doesn't appear to be in any pain, it may have chosen to show you how much they love you!
Who is Isabella?
My name is Isabella, and I am a dedicated and knowledgeable cat enthusiast. With years of experience caring for cats and a deep love for felines, I made a mission to help other cat lovers navigate the challenges of cat ownership.